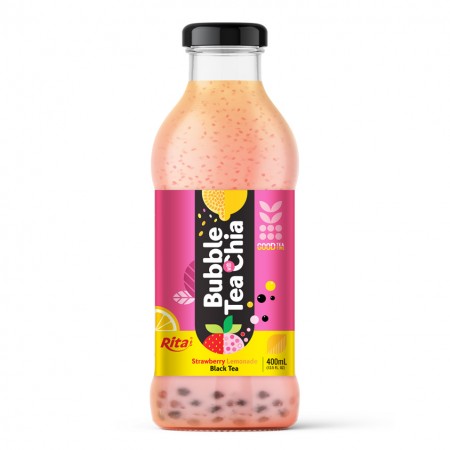 Sample: Free Sample
Volume: 400 ml
Packaging: Glass Bottle
Shelf life: 18 months
Payment term: L/C,T/T
Delivery time: 20 -25 Days after confirm the order
Certification: ISO, HACCP, FDA, HALAL, USDA, ORGANIC ...
Minimum order quantity: 200 Carton/Order
Port: Cat Lai port , Ho Chi Minh Port, Vietnam
Supply ability: 300 Twenty-Foot Container/Month. Canned bottle production base: 10000 tons/month. PET bottle production base: 10000 tons/month. QC LAB: 40 professional QC team.
BUBBLE TEA WITH CHIA SEED 400ML GLASS BOTTLE STRAWBERRY AND LEMONADE FLAVOR

FEATURE

We are proud to present our newly launched product: Bubble tea. Meticulously crafted, this drink is infused with the powerful essence of black tea, complemented by an enchanting blend of chia seeds, delicious strawberries and invigorating lemonade. Prepare to be captivated as you immerse yourself in a harmonious symphony of flavors. Each sip of wine becomes a jubilant feast of taste, leaving an indelible mark in your memory. Surrender to the magic and let your senses be mesmerized by this special concoction.

HEALTH BENEFITS

The bubble tea with tapioca pearls made from black tea, chia seeds, strawberry, and lemonade offers several potential health benefits due to the nutritional components it contains:

1. Black Tea

Black tea leaves are rich in antioxidants known as polyphenols, which may help protect the body against oxidative stress and reduce the risk of chronic diseases. It also contains caffeine, which can boost mild energy and improve focus and alertness.

2. Chia Seeds

Chia seeds are packed with essential nutrients, including fiber, healthy fats (omega-3 fatty acids), protein, vitamins, and minerals. The high fiber content supports digestive health, aids in maintaining healthy blood sugar levels, and promotes satiety, which can help with weight management. The omega-3 fatty acids in chia seeds contribute to heart health and have anti-inflammatory properties.

3. Strawberry

Strawberries are a rich source of vitamins, particularly vitamin C, which is essential for immune function and collagen synthesis. They also contain dietary fiber, antioxidants, and beneficial plant compounds that may help reduce inflammation, support heart health, and improve blood sugar control.

4. Lemonade

Lemonade, made from fresh lemons, is a good source of vitamin C and provides a refreshing flavor. Vitamin C is an antioxidant, supports immune function, and aids in collagen production. Additionally, lemons have natural detoxifying properties and may promote hydration.

OVERVIEW OF RITA FOOD & DRINK CO., LTD

Rita is a renowned beverage manufacturer and exporter from Vietnam, distinguished by its unwavering commitment to providing exceptional beverages of the highest quality to customers worldwide. Our company takes immense pride in offering a diverse array of top-quality beverages, including premium fruit juice drinks, coconut products, coffee drinks, seed drinks, aloe vera drinks, and more. Among our tantalizing offerings are delightful options such as taro bubble tea, green tea bubble tea, honeydew bubble tea, original bubble tea, brown sugar bubble tea, and many other captivating flavors.

With a cutting-edge facility equipped with 20 advanced production lines, we can manufacture and distribute an astounding 500 beverage containers monthly. Our paramount focus remains on ensuring client satisfaction, evident through our swift and efficient delivery, competitive pricing, flexible minimum order quantities, extensive product selection, unwavering commitment to quality, and comprehensive design services for logos, labels, posters, and promotional materials.

At Rita Company, we take great pride in our dedicated research and development team, which continuously pushes innovation boundaries to introduce new and captivating products. This steadfast commitment enables us to stay ahead in the ever-evolving beverage industry, consistently surpassing expectations. Our impressive range of certifications, including GMP, FSSC, ISO, HACCP, FDA, HALAL, and ORGANIC, is a testament to our unwavering dedication to upholding the highest quality and safety standards. When you choose us, you can trust that you are selecting a partner wholly committed to excellence in every aspect of our operations.

RITA - GOOD TEA, GOOD TIMES.
COMPANY PROFILE


RITA is the leading juice manufacturer and exporter in the Vietnam for more than 15 years, with the international food production approval of GMP, HACCP, FS$C22000, ISO, FDA, HALAL, ORGANIC, KOSHER, etc. Rich experience of food and drink production and marketing. More than 10 production lines make the capacity of more than 500containers per month. Available packing for aluminum can, pet bottle, glass bottle, paper box, pp bottle, etc. Our juice advantage is all the fruit is directly from Vietnam, where there are fresh fruit all year around, it's tropical fresh. Our mission is making the best tropical fresh juice.

Good health & Good taste.
We bring you the fresh, healthy, nutritional juice drink by applying creativity and innovation to natures bounty, since we are in the tropical region of Vietnam.
Contac us
RITA FOOD AND DRINK CO.,LTD
Open: Monday - Saturday
Time: 8AM - 5PM
Phone: 084 274 3784 788 Fax: 084 274 3784 799
Mail: marketing@rita.com.vn