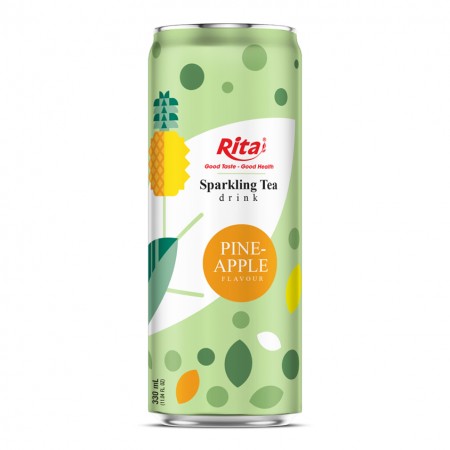 Sample: Free Sample
Volume: 330 ml
Packaging: Aluminum can
Shelf life: 18 months
Payment term: L/C,T/T
Delivery time: 20 -25 Days after confirm the order
Certification: ISO, HACCP, FDA, HALAL, USDA, ORGANIC ...
Minimum order quantity: 200 Carton/Order
Port: Cat Lai port , Ho Chi Minh Port, Vietnam
Supply ability: 300 Twenty-Foot Container/Month. Canned bottle production base: 10000 tons/month. PET bottle production base: 10000 tons/month. QC LAB: 40 professional QC team.
SPARKLING TEA DRINK WITH PINEAPPLE JUICE 330ML ALU CAN

FEATURE

Introducing a refreshing delight for your taste buds: a sparkling tea drink infused with the tropical essence of pineapple. This refreshing beverage combines the crispness of effervescent bubbles with the sweet tang of juicy pineapple, creating a harmonious fusion of flavors. With every sip, you'll experience a tropical paradise as the sparkling tea tantalizes your palate and leaves a refreshing sensation. Indulge in the vibrant and vital notes of pineapple, perfectly balanced in this sparkling tea drink, and let its effervescence transport you to a tropical getaway with each sip.

HEALTH BENEFITS

Indulging in this sparkling tea drink with pineapple flavor not only satisfies your taste buds but also offers an array of health benefits. Pineapple, the star ingredient, is packed with essential vitamins, such as vitamin C, which supports a healthy immune system, boosts collagen production, and promotes skin health. It also contains manganese, a mineral crucial for bone health and metabolism regulation. Another significant component of pineapple is bromelain, an enzyme known for its anti-inflammatory properties, aiding in digestion and potentially reducing pain and swelling.

Moreover, the tea base itself can provide additional health perks. Tea is well-known for its high antioxidant content, which helps combat free radicals in the body, reducing the risk of chronic diseases. Antioxidants also play a role in promoting heart health and reducing the risk of cardiovascular issues. Additionally, tea is a natural source of hydration and can contribute to maintaining proper fluid balance in the body.

Savor the delightful combination of pineapple and sparkling tea, and let this invigorating drink not only tantalize your taste buds but also contribute to your overall well-being.

OVERVIEW OF RITA FOOD & DRINK CO., LTD

Rita Food and Drink Company, an esteemed beverage manufacturer and exporter based in Vietnam, takes great pride in its wide range of worldwide premium beverages. Committed to exceptional service and meeting customer demands, our company specializes in crafting superior fruit juice drinks, coconut products, , aloe vera drinks, tea drinks, and more.

Our advanced facility boasts 20 state-of-the-art production lines, allowing us to produce and distribute up to 500 beverage containers monthly. We prioritize client satisfaction by ensuring prompt delivery, competitive pricing, flexible minimum order quantities, an extensive product selection, consistent quality, and design services for logos, labels, posters, and promotional materials.

At Rita, we maintain a professional research and development team dedicated to exploring new and innovative products, enabling us to stay ahead in the ever-evolving beverage industry. Our impressive certifications, including GMP, FSSC, ISO, HACCP, FDA, HALAL, and ORGANIC, testify to our unwavering commitment to quality and safety.

At Rita, we value cultivating long-term client relationships founded on trust, respect, and cooperation. We aim to surpass expectations and ensure satisfaction by delivering the finest services and products available. With a passion for innovation, quality, and customer happiness, we strive to uphold our reputation as a leading producer and exporter of beverages in the industry.

RITA – GOOD TEA GOOD TIME
COMPANY PROFILE


RITA is the leading juice manufacturer and exporter in the Vietnam for more than 15 years, with the international food production approval of GMP, HACCP, FS$C22000, ISO, FDA, HALAL, ORGANIC, KOSHER, etc. Rich experience of food and drink production and marketing. More than 10 production lines make the capacity of more than 500containers per month. Available packing for aluminum can, pet bottle, glass bottle, paper box, pp bottle, etc. Our juice advantage is all the fruit is directly from Vietnam, where there are fresh fruit all year around, it's tropical fresh. Our mission is making the best tropical fresh juice.

Good health & Good taste.
We bring you the fresh, healthy, nutritional juice drink by applying creativity and innovation to natures bounty, since we are in the tropical region of Vietnam.
Contac us
RITA FOOD AND DRINK CO.,LTD
Open: Monday - Saturday
Time: 8AM - 5PM
Phone: 084 274 3784 788 Fax: 084 274 3784 799
Mail: marketing@rita.com.vn