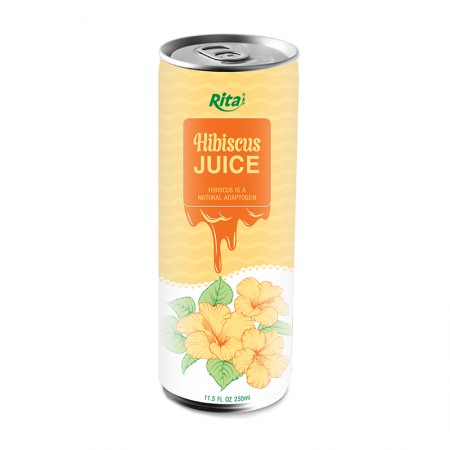 Sample: Free Sample
Volume: 250 ml
Packaging: Aluminum can
Shelf life: 24 months
Payment term: L/C,T/T
Delivery time: 20 -25 Days after confirm the order
Certification: ISO, HACCP, FDA, HALAL, USDA, ORGANIC ...
Minimum order quantity: 200 Carton/Order
Port: Cat Lai port , Ho Chi Minh Port, Vietnam
Supply ability: 300 Twenty-Foot Container/Month. Canned bottle production base: 10000 tons/month. PET bottle production base: 10000 tons/month. QC LAB: 40 professional QC team.
Hibiscus Tea

A Classic Floral Favourite From "Hawaiian Dreams"

FEATURE

Captures the flavor and health benefits of the lovely herbal "Hawaiian Dreams", Rita Hibiscus Tea is delightfully refreshing with a subtle fruity flavor. The bright, deep pink colour Hibiscus tea is full of vitamin C to lift the immune system and fight drowsiness. This naturally floral flavored tea captures the naturally sour-sweet taste, extending the season beyond autumn for year-round enjoyment.

HEALTH BENEFITS

1. Helps To Lower Blood Pressure

One of hibiscus's benefits for health is its ability to help lower blood pressure. Many studies show that hibiscus can help in in reducing systolic and diastolic pressure. Though, patient who are already on the diuretic 'Hydrochlorothiazide', it is not advised to use. Because it might be a risk of interaction and not good for your health.

2. Boosts Immunity

Hibiscus is rich in vitamin C which responsible for keeping our immune systems healthy. Vitamin C also can help with wound healing. Our body cannot produce ore store vitamin C, so we should include vitamin C in your diet daily.

3. Protects Your Liver

One of the hibiscus's benefits is reducing liver inflammation. One study show that hibiscus extract may improve liver steatosis, which could reduce the risk of liver failure.

4. Benefits For Your Skin

The strong antioxidant vitamin C plays an important role for the synthesis of collagen since it also helps in the stabilizing and cross-linking of the collagen molecules. Furthermore, hibiscus is also rich in vitamin A which can lead to the improvement of acne, eczema and mild skin allergies.

5. Controls Cholesterol Levels

Some studies show that hibiscus may reduce cholesterol levels. Enjoys hibiscus drink daily may help to increase "good cholesterol" and decrease "bad cholesterol".

6. Rich in Antioxidant

Hibiscus is herbal which has a number of antioxidants. Antioxidants might protect your body from free radical damage and thus improves immunity and overall functioning of the body. The antioxidant called anthocyanin found in hibiscus may help fight many chronic diseases.

7. Helps To Ease Inflammation

Rich in beta-carotene, hibiscus is useful in dealing with issues such as inflamed and itchy skin. It also helps reduce oxidative skin damage that leads to problems like aging, wrinkles, dark spots and saggy skin.
COMPANY PROFILE


RITA is the leading juice manufacturer and exporter in the Vietnam for more than 15 years, with the international food production approval of GMP, HACCP, FS$C22000, ISO, FDA, HALAL, ORGANIC, KOSHER, etc. Rich experience of food and drink production and marketing. More than 10 production lines make the capacity of more than 500containers per month. Available packing for aluminum can, pet bottle, glass bottle, paper box, pp bottle, etc. Our juice advantage is all the fruit is directly from Vietnam, where there are fresh fruit all year around, it's tropical fresh. Our mission is making the best tropical fresh juice.

Good health & Good taste.
We bring you the fresh, healthy, nutritional juice drink by applying creativity and innovation to natures bounty, since we are in the tropical region of Vietnam.
Contac us
RITA FOOD AND DRINK CO.,LTD
Open: Monday - Saturday
Time: 8AM - 5PM
Phone: 084 274 3784 788 Fax: 084 274 3784 799
Mail: marketing@rita.com.vn