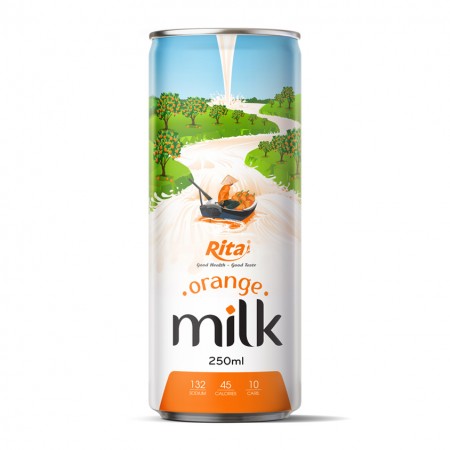 Sample: Free Sample
Volume: 250 ml
Packaging: Aluminum can
Payment term: L/C,T/T
Delivery time: 20 -25 Days after confirm the order
Certification: ISO, HACCP, FDA, HALAL, USDA, ORGANIC ...
Minimum order quantity: 200 Carton/Order
Port: Cat Lai port , Ho Chi Minh Port, Vietnam
Supply ability: 300 Twenty-Foot Container/Month. Canned bottle production base: 10000 tons/month. PET bottle production base: 10000 tons/month. QC LAB: 40 professional QC team.
ORANGE MILK 250ML SLIM CAN

FEATURES

Rita Orange Milk is a unique combination of fresh orange juice, whole milk powder, and non-dairy cream for creating tasty drink. Both orange and milk are rich in nutrients that have good effect to your health and spirit in excellent taste.

Enjoy the benefit of milk and juice in of Rita Orange Milk anytime, anywhere. It will be a perfect beverage for those who are health consciouses.

HEALTH BENEFITS

1. Increases Energy

Orange milk will provide the energy and important nutrients for body such as calcium, vitamin. So this is a drink that helps you feel better after a tiring work or exercise.

Whole Milk contains more than 20 kinds of amino acids and ingredients including iron, zinc, calcium, vitamins D, B6, B12, etc. Combined, it can bring high nutritional value and energy for the body.

2. Boosts Immune System

Orange juice is a great source of vitamin C, which helps boost your immunity. The strong immune system will protect the body from cold, flu, and other inflammatory diseases.

3. Benefits To The Skin

Thanks to the presence of vitamin C, orange juice plays a crucial role in fighting free radical activity. Free radical activity could promote aging, wrinkles and make your skin dull. That is the reason why orange juice could help give you a youthful and radiant skin.

4. Prevents Cancer

Oranges comprise a stuff known as D – limonene that is an efficient agent against skin cancer, breast cancer, mouth cancer, colon cancer and lung cancer. Furthermore, the presence of vitamin C in orange juice also helps in preventing cancer.

5. Reduces Inflammation

Orange juice also has anti-inflammatory properties, and research has found that these properties can help improve insulin resistance, promote cardiovascular health, and reduce the risk of developing diabetes or heart disease. For people with inflammatory diseases, orange juice can be part of a healthy diet to avoid aggravating the symptoms.

6. Improves Circulation

Folate, or vitamin B9 can help build red blood cells, which improve the flow of blood and keep the organs oxygenated. Orange juice is a rich source of folate. Drinking orange juice every day, you can improve your blood circulation as well as the health and functioning of many of the body's organs.
COMPANY PROFILE


RITA is the leading juice manufacturer and exporter in the Vietnam for more than 15 years, with the international food production approval of GMP, HACCP, FS$C22000, ISO, FDA, HALAL, ORGANIC, KOSHER, etc. Rich experience of food and drink production and marketing. More than 10 production lines make the capacity of more than 500containers per month. Available packing for aluminum can, pet bottle, glass bottle, paper box, pp bottle, etc. Our juice advantage is all the fruit is directly from Vietnam, where there are fresh fruit all year around, it's tropical fresh. Our mission is making the best tropical fresh juice.

Good health & Good taste.
We bring you the fresh, healthy, nutritional juice drink by applying creativity and innovation to natures bounty, since we are in the tropical region of Vietnam.
Contac us
RITA FOOD AND DRINK CO.,LTD
Open: Monday - Saturday
Time: 8AM - 5PM
Phone: 084 274 3784 788 Fax: 084 274 3784 799
Mail: marketing@rita.com.vn