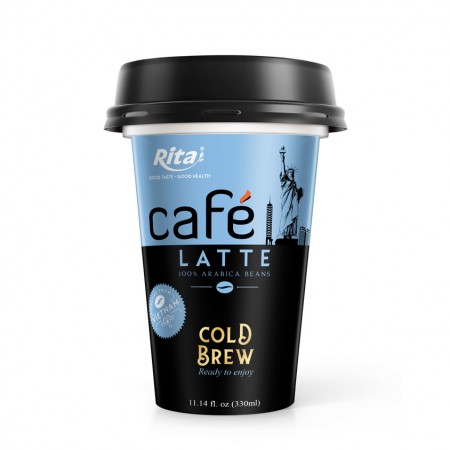 Sample: Free Sample
Volume: 330 ml
Packaging: PP Cup
Shelf life: 18 months
Payment term: L/C,T/T
Delivery time: 20 -25 Days after confirm the order
Certification: ISO, HACCP, FDA, HALAL
Minimum order quantity: 200 Carton
Port: Ho Chi Minh Port, Vietnam
Supply ability: 300 Twenty-Foot Container per Month Canned bottle production base---10000 tons/month PET bottle production base---10000 tons per month QC LAB--20 professional QC team
LATTE COFFEE - HAPPINESS IN A SIP AND LONG-LASTING

FEATURES

Vietnam is one of the most famous countries for coffee. The coffee beans, collected here, always have the strong and delightful flavor. We use the real Vietnamese coffee beans to create the real Latte coffee.

Rita Latte Coffee combines espresso, steamed milk and a light layer of foam. When enjoying, you will feel the passionate aroma of coffee quickly, after that is the attractive and delicious of milk foam. We believe that this creamy tasty coffee is the perfect drink to soothe your soul, especially for those who do not like the taste of black coffee.

HEALTH BENEFITS

1. Benefits for your liver

Some studies have shown that drinking coffee might help to prevent liver cancer and liver conditions such as fibrosis. It is also help to protect your liver from alcohol-induced damage.

2. Boosts your brainpower

Caffeine helps to improve the flow of blood around your brain. Your blood is carrying millions of particles of oxygen around your body, and when the level of oxygen available to your brain increases, it can help it make neural pathways quicker and more efficiently.

3. Helps improve your coordination

Caffeine is found in coffee can actually enhance neuromuscular coordination, making your brain send messages to your muscles faster.

4. Helps you concentrate and focus

If you're tired and not concentrating on your work, try a cup of latte for yourself. A 2010 review in the journal Nutrition found it has a serious impact on cognitive function and can help you concentrate and better focus on your works.

5. Controls diabetes

Coffee beans are loaded with antioxidants that can impact blood sugar levels and is thought to lower the risk of type 2 diabetes.

6. Helps you live longer

Several studies show that coffee drinkers live longer and have a lower risk of premature death.

7. Helps prevent cancer

Liver and colorectal cancer are the third and fourth leading causes of cancer death worldwide. Some studies show that coffee drinkers have a lower risk of both base on the cancer prevention of coffee.

THE ADVANTAGES OF RITA

+ Many kinds of products such as coconut water, coconut milk, aloe vera drink, fruit juice drink, coffee drink, tea drink, seed drink, etc.

+ Products and production lines get international standards including FDA, ISO, HALAL, HACCP, GMP, KOSHER, etc.

+ Products are created from natural-real ingredients; not from concentrate. Abundant tropical fruit resources in Vietnam

+ Provide OEM and ODM service

+ Cost effective and competitive, good for distribution in customer's market

+ Various products types are available, flexible in customizing ingredients

+ Low MOQ of products and fast delivery

+ Complete system from design and samples productions

+ Experienced manufacturer and exporter, familiar with the regulations on exporting all over the world.

+ Products are rich in beneficial nutrients including vitamins, fiber, taurine, etc.

+ Products are good for health; including enhancing immunity, boosting energy, improving the skin's health, supporting digestion, etc.
COMPANY PROFILE


RITA is the leading juice manufacturer and exporter in the Vietnam for more than 15 years, with the international food production approval of GMP, HACCP, FS$C22000, ISO, FDA, HALAL, ORGANIC, KOSHER, etc. Rich experience of food and drink production and marketing. More than 10 production lines make the capacity of more than 500containers per month. Available packing for aluminum can, pet bottle, glass bottle, paper box, pp bottle, etc. Our juice advantage is all the fruit is directly from Vietnam, where there are fresh fruit all year around, it's tropical fresh. Our mission is making the best tropical fresh juice.

Good health & Good taste.
We bring you the fresh, healthy, nutritional juice drink by applying creativity and innovation to natures bounty, since we are in the tropical region of Vietnam.
Contac us
RITA FOOD AND DRINK CO.,LTD
Open: Monday - Saturday
Time: 8AM - 5PM
Phone: 084 274 3784 788 Fax: 084 274 3784 799
Mail: marketing@rita.com.vn