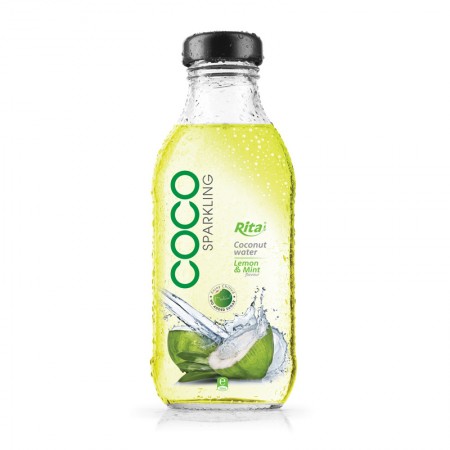 Sample: Free Sample
Volume: 350 ml
Packaging: Glass Bottle
Shelf life: 18 months
Payment term: L/C,T/T
Delivery time: 20 -25 Days after confirm the order
Certification: ISO, HACCP, FDA, HALAL, USDA, ORGANIC ...
Minimum order quantity: 200 Carton/Order
Port: Cat Lai port , Ho Chi Minh Port, Vietnam
Supply ability: 300 Twenty-Foot Container/Month. Canned bottle production base: 10000 tons/month. PET bottle production base: 10000 tons/month. QC LAB: 40 professional QC team.
SPARKLING COCONUT WATER WITH LEMON AND MINT FLAVOR 350ML GLASS BOTTLE

FEATURES

Coconut water is delightful, but sometimes you want something new like coconut water with little bubbles. We have a great alternative to boring old coconut water.

Rita Sparkling Coconut Water With Lemon And Mint Flavor is made of coconut water and carbonated water. It will be a fun and delicious coconut water which can refresh your body immediately. Enjoys the cool sip and you will get the excitement through unique and intense flavor experiences.

HOW TO MAKE

Being one of Vietnamese coconut water manufacturers, we only collect the high-quality coconut to produce coconut water. We also add carbonated water to create the refreshment. With the modern manufacturing and quality control systems from our factory, we pack the sparkling coconut water carefully to help to preserve its flavor and nutrients.

HEALTH BENEFITS

Being one of coconut water manufacturers in Vietnam, Rita offers you the sparkling coconut water with many health benefits.

1. Reduces the risk of kidney stones

Some study show that coconut water can protect against impaired renal function and development of oxidative stress in the kidneys. It also can be used for phytotherapy against urolithiasis.

2. Helps in Strengthening Bones

Because coconut water contains a substantial amount of calcium, it is great in strengthening your bones. This liquid water also rich in magnesium that helps in improving bone strength.

3. Helps in Improving Metabolism

Good metabolism is one of the sure shot ways to good health. Coconut water contains many nutrients that help in giving a boost to your metabolism, manganese being one of the most important ones. Therefore, add coconut water in your diet can give a much-needed boost to your metabolism.

4. Helps in Preventing Dehydration

Dehydration can make you low on energy and lead to further health complications too. And when the body gets dehydrated, it also loses important nutrients and essential salts. However, drinking coconut water instantly replenishes the body of all the lost nutrients and water.

5. Replaces electrolyte

Because coconut water is high in potassium, and such a great electrolyte replacement, it has even been used for IV hydration in certain emergency situations.

6. Refreshes your body

Sparkling water is a refreshing beverage option to make your refreshment moment bright and bubbly. Let's enjoy one sip and your eyes will pop out of their sockets and your mouth will say "wow." That's how delicious it is that can brighten up your day.

OVERVIEW ABOUT RITA FOOD & DRINK CO., LTD

Established in 2004, RITA Food & Drink Co., Ltd is one of Vietnamese coconut water manufacturers. With 100% foreign invested capital, factory scale of 30.000 m2, 100 cooperative farms and more than 500 employees, each year we supply more than 30.000 tons of products to the market. Besides Vietnamese market, RITA Food & Drink Co., Ltd has been exported to more than 100 countries and regions worldwide. RITA is also a reliable partner in OEM and ODM manufacturing cooperation with diverse products, quality, competitive prices.
COMPANY PROFILE


RITA is the leading juice manufacturer and exporter in the Vietnam for more than 15 years, with the international food production approval of GMP, HACCP, FS$C22000, ISO, FDA, HALAL, ORGANIC, KOSHER, etc. Rich experience of food and drink production and marketing. More than 10 production lines make the capacity of more than 500containers per month. Available packing for aluminum can, pet bottle, glass bottle, paper box, pp bottle, etc. Our juice advantage is all the fruit is directly from Vietnam, where there are fresh fruit all year around, it's tropical fresh. Our mission is making the best tropical fresh juice.

Good health & Good taste.
We bring you the fresh, healthy, nutritional juice drink by applying creativity and innovation to natures bounty, since we are in the tropical region of Vietnam.
Contac us
RITA FOOD AND DRINK CO.,LTD
Open: Monday - Saturday
Time: 8AM - 5PM
Phone: 084 274 3784 788 Fax: 084 274 3784 799
Mail: marketing@rita.com.vn