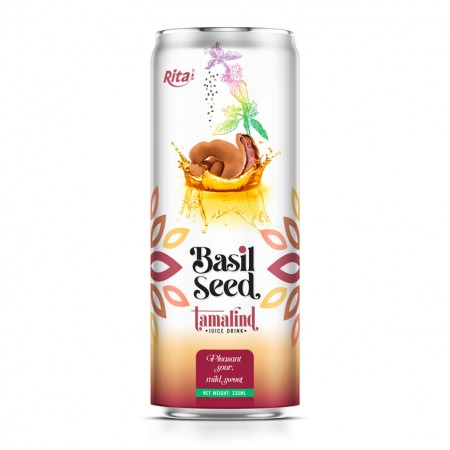 Sample: Free Sample
Volume: 330 ml
Packaging: Aluminum can
Shelf life: 18 months
Payment term: L/C,T/T
Delivery time: 20 -25 Days after confirm the order
Certification: ISO, HACCP, FDA, HALAL, USDA, ORGANIC ...
Minimum order quantity: 200 Carton/Order
Port: Cat Lai port , Ho Chi Minh Port, Vietnam
Supply ability: 300 Twenty-Foot Container/Month. Canned bottle production base: 10000 tons/month. PET bottle production base: 10000 tons/month. QC LAB: 40 professional QC team.
BASIL SEED DRINK WITH TAMARIND JUICE

FEATURE

Basil seeds are also called Sabja, Tukmaria which have lots of nutrition facts when soaked in water and consumed. These seeds are known for having antioxidant, anticancer, antiviral, antibacterial, antispasmodic and antifungal properties.

Tamarind is a tropical fruit with the sweet and tangy tasting. Tamarind contains lots of antioxidants, fiber, vitamins B and C, beta-carotene, magnesium and potassium.

RITA basil seed drink with tamarind juice is created from fresh mouthwatering fruits and high quality basil seeds. In our modern manufacture, each product is made using traditional recipe to ensure that you get the best flavor and freshness possible.

+ Good Source of Fiber

+ Powerful Antioxidants

+ Lightly Sweetened

+ Enrich vitamins

+ Glass Bottle, Environmentally Friendly

HEALTH BENEFITS

1. Helps in Weight Loss

These little basil seeds can work wonders for weight management base on the great source of fiber make you feel full for longer. It is also low in calories which can reduce appetite.

2. Reduces Body Heat

Basil seeds can help in reducing your body heat as these seeds work as a natural coolant. This is why it is used in many detox drinks.

3. Prevents Cold and Flu

Basil seeds can help in preventing cold and flu. The antispasmodic properties of basil seeds can cure dry cough and relax the muscles.

4. Controls Blood Sugar Levels

Basil seeds may low down the metabolism of your body and controls the conversion of carbs into glucose. It is considered to be good for type II diabetes patients.

5. Helps mitigate liver injury

Tamarind juice drink is a great source of copper, nickel, manganese, selenium, and iron, etc. Collected, these mineral are involved in improving your body's defense against oxidative stress. The presence of selenium, vitamin E help to protect the lipid content in liver cells from free radical attack.

6. Maintains digestive health

Tamarind can act as a natural laxative and further keeps your digestion strong. Tamarind also stimulates the activity of bile that helps dissolve the food quickly speeding up digestion.

OVERVIEW ABOUT RITA FOOD & DRINK CO., LTD

Established in 2004, RITA Food & Drink Co., Ltd is proud to be the best juice manufacturer in Vietnam. With 100% foreign invested capital, factory scale of 30.000 m2, 100 cooperative farms and more than 500 employees, each year we supply more than 30.000 tons of products to the market. Besides Vietnamese market, RITA Food & Drink Co., Ltd has been exported to more than 100 countries and regions worldwide. RITA is also a reliable partner in OEM and ODM manufacturing cooperation with diverse products, quality, competitive prices.
COMPANY PROFILE


RITA is the leading juice manufacturer and exporter in the Vietnam for more than 15 years, with the international food production approval of GMP, HACCP, FS$C22000, ISO, FDA, HALAL, ORGANIC, KOSHER, etc. Rich experience of food and drink production and marketing. More than 10 production lines make the capacity of more than 500containers per month. Available packing for aluminum can, pet bottle, glass bottle, paper box, pp bottle, etc. Our juice advantage is all the fruit is directly from Vietnam, where there are fresh fruit all year around, it's tropical fresh. Our mission is making the best tropical fresh juice.

Good health & Good taste.
We bring you the fresh, healthy, nutritional juice drink by applying creativity and innovation to natures bounty, since we are in the tropical region of Vietnam.
Contac us
RITA FOOD AND DRINK CO.,LTD
Open: Monday - Saturday
Time: 8AM - 5PM
Phone: 084 274 3784 788 Fax: 084 274 3784 799
Mail: marketing@rita.com.vn